Briana Lyn's vocal training is for passionate singers who desire to find FREEDOM in their voice through expert coaching and techniques.
Maybe you are a beginner who loves singing but you need to learn the fundamentals in your vocal studies. Or maybe you have been singing for awhile and you need tailored coaching on specific areas of your voice. To learn more about the different areas you can focus on in lessons to fit YOUR needs, click here. 
No matter where you fall in that spectrum, singing the songs you love with freedom is where it's at!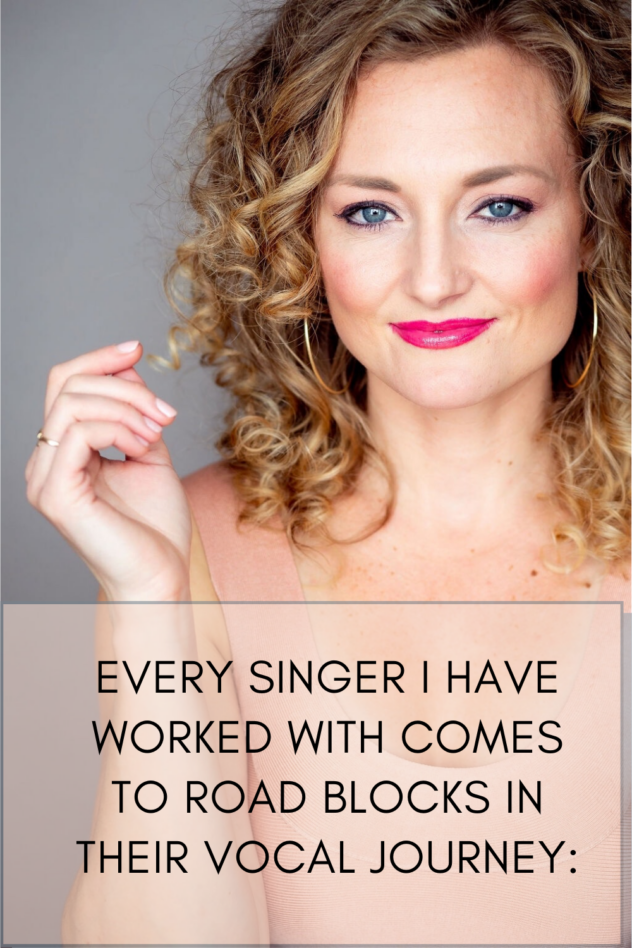 1. You don't know what to practice-"I want to train my voice so I can sing songs I like without straining. I find resources online but lack the personalized support I need to really make any progress.  
2. You have breaks in your voice that you can't fix –"I want to sing with an even, supported tone but find my voice has cracks and breaks. 
3. You don't know if you can get better.-"I want to grow and develop my singing voice but don't know how it's even possible."
If you can relate to those roadblocks, you've come to the RIGHT place!
I've come to realize that when you face roadblocks, you need to call on the experts. So many people waste TIME & MONEY on things that don't achieve the results they want.
No one gets to where they are in life by chance. It takes the right strategy, nurture and expert support to get to the next level.
Growth happens when you focus on the right deliberate habits.
As a singer and vocal coach, I know that singing is a skill that needs consistent practice and time to develop. Trust me, when you practice and work on developing your voice on a consistent basis along with getting expert vocal coaching, you will start to see growth and results!

Many singers & performers question their value and worth because they haven't received the outside validation that they're looking for. The GOOD NEWS is you don't need anyone's permission or validation to do what you LOVE. You just need to get a plan and WORK it!  #NOEXCUSES  
What if you decided today to quit minimizing your dreams and desires and CHOOSE to get nurturing, personalized support for your voice?
Here's What You Get in the 90-Day Program
10 weekly 40-minute private singing lessons

to propel your vocal journey, make daily improvements and build new habits.

UNLIMITED email support
Vocal technique reading recommendations

(sold on Amazon) with corresponding assignments.

Daily mp3 vocal exercises

to develop your voice

that you can complete in 20 minutes or less right from your phone or device.

24/7 access to your online Google Drive File

with feedback and personalized assignments so you can have access to it anytime, anywhere.

Guidance choosing 3 songs and finding the style that best showcases your voice

with tips on how to tailor songs to fit you. 
Briana Lyn's 90 day vocal training will give you:
Access to mp3 singing exercises and the best techniques and resources to read and study to find YOUR vocal freedom.
1. Get vocal technique reading recommendations with corresponding mp3s + assignments to grow as a singer.
2. Learn How Your Body Produces Sound: Larynx, Vocal Cords, Muscle Groups, Right Placement, Resonance
3. Develop The Basics of breathing, tone, blending registers & strengthening your range.
4. Develop Key Music Skills + Style like sight singing, pitch, rhythm, harmony, phrasing, dynamics, sustaining notes & vibrato.
5. Get rid of bad habits like strain + tension by developing good vocal hygiene and habits.
6. Performance Tips for auditions & live performances.
12 month program
(Online or In-Person)
Are you looking to have long term voice coaching and mentorship? This program is more of a "traditional" approach to vocal lessons for singers who want to learn more songs and have more time to practice and develop the techniques they are learning.
Here's What You Get in the 12-Month Program:
Option for 30, 40, or 60 minute sessions weekly (see studio calendar)
UNLIMITED email support
Access to all of the expert techniques and resources found in the 90 day program.
Learn 4x as many songs in the 90-day program
Get MORE mentorship + guidance to sing with freedom!
Ultimate Goals in the Singing Program:
*Gain knowledge and understanding of how your voice works and the proper care it needs.
*Develop consistent singing habits to improve your tone, range and technique.
*Find freedom in your voice to sing the songs you love & gain confidence you need for auditions and performances. 
*No Travel required for online clients
*For online clients, the entire program is based online and private sessions are through the online apps
so you can participate from home or work.
All private sessions may be recorded onto video for your personal use and lifetime access. All course materials (MP3s, workbooks and additional resources) are within your personalized Google Drive folder. You'll also be able to ask questions, get feedback and connect with Briana via email throughout the week.